Trainings and Presentations

Upcoming Training Dates:
Applied Polyvagal Theory in Yoga, through Embodied Yoga, Part II, January 23, 24, 30 & 31, 2021 with Dr. Stephen Porges (Registration link for Zoom Class). Part I and II offered in Japanese through TOKYOYOGA, February 5, 6, 12 & 13 and April 2, 3, 9 & 10, 2021 (Registration Link for Zoom Class)
Somatic Psychology Series, through nscience, February 24 & 25, 2021 (Online Registration Link)
Practical Strategies for Complex PTSD: An Integrative Mind-Body Approach to Treating Repeated, Chronic, and/or Developmental Trauma, through nscience, March 4, 5 & 6, 2021 (Online Registration Link)
---
Upcoming Events:
January 23, 24, 30 & 31, 2021
This 2-part training will guide you through an experiential journey to support your wellness while connected to our online Embodied Yoga community. While Part I has already been recorded, it was a phenomenal success, and a recording is available to purchase and view in preparation for attendance at Part II. 
This course is open to anyone (i.e yoga teachers, therapists, parents, teachers, etc.) interested in the application of Polyvagal Theory from a multidisciplinary holistic approach. We will use psychology, meditation and yoga to embody these practices and learn to apply them in our everyday lives.
This is Level 1 of 2. Both Levels 1 and 2 comprise eight hours of study each, totaling 16 hours all together. Complete both Levels 1 and 2 to receive recognition with our Applied Polyvagal Theory in Yoga Certificate.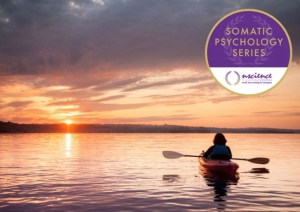 February 24 & 25
Without interventions that incorporate somatic awareness and movement, many therapeutic approaches are limited in their ability to help clients fully release the impact of traumatic events. In other words, we cannot simply think our way out of traumatic activation. These two online webinars with Dr Arielle Schwartz, which are part of the nscience Somatic Psychology Series, are aimed at psychotherapists, psychologists and counsellors across modalities, who are interested in learning how to integrate somatic psychology interventions into their work with clients.
March 4, 5 & 6
While it took some time for researchers and practitioners to agree that Complex PTSD has its own aetiology, symptomatology and recommended therapeutic methods; distinct from PTSD – there is now increasing realization that our clinical approaches need to be considerably different when our clients have suffered prolonged and repeated incidences of interpersonal trauma. Such trauma could have been chronic sexual, psychological and physical abuse, neglect, intimate partner violence or situations that involved captivity – resulting in extended periods of terror, fear and severe dysregulations of affect and arousal.
---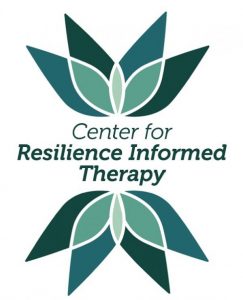 Recorded Webinar Topics:
Vagus Nerve Yoga: Simple Practices to Enhance Wellbeing
Resilience Informed Therapy
Vagus Nerve and Trauma Recovery
Somatic Psychology
Addressing Dissociative Symptoms in Complex PTSD
---
Purchase Previous Trainings: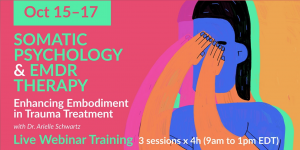 In the recording of this 3-day live webinar, Dr. Arielle Schwartz offers an experiential workshop on Somatic Psychology and how it interfaces with evidence based trauma treatments. When clients suppress emotions, they can present somatically. Traditional approaches to therapy attend to the cognitive and emotional aspects of clients' lives, while the somatic experience is often left out of the room. "Talk therapy" can have limited effectiveness for clients with somatization symptoms, developmental trauma, dissociative defenses, or debilitating feelings of shame. It is therefore, important for therapists to become skilled at working with client's nonverbal and somatic communications. Interventions to enhance embodiment in trauma treatment expand the therapeutic experience beyond where words can take a client.
---
Learn More about Upcoming Trainings:



Online and Live Trainings with NSCIENCE


Past Trainings/Presentations
EMDR Therapy and Complex PTSD

EMDR and Dissociation: Reflections, Considerations, and Cases
EMDR Therapy Tools for Attachment Trauma
Play Therapy and EMDR for Children
Embodied Culture: A Somatic Approach to Diversity Awareness in EMDR (Dr. Arielle Schwartz and Barb Maiberger presented this at the 2014 EMDRIA Conference)
Resilience Psychology:  A Strength-Based Approach to Trauma Recovery
Complex PTSD for PESI