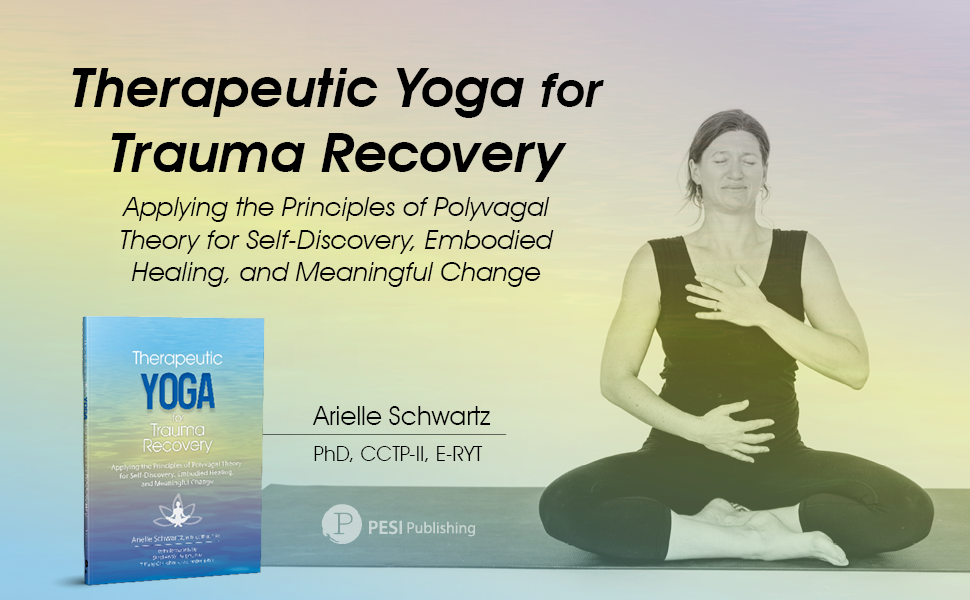 Coming Soon: Therapeutic Yoga for Trauma Recovery Flip Chart!
Therapeutic yoga bridges a path of healing between the psyche and the body.
In the Therapeutic Yoga for Trauma Recovery Flip Chart, licensed psychologist, registered yoga teacher, and renowned trauma expert Dr. Arielle Schwartz provides a variety of foundational yoga, breathing, and meditative practices to balance, energize, and calm the body.
Grounded within the principles of polyvagal theory, affective neuroscience, and trauma-informed care, this flip chart will help clients:
Understand the impact of traumatic stress on the brain and body
Deepen awareness of their body's vagal state
Identify when their nervous system is stuck in fight, flight, freeze, or faint
Let go of defensive reactions connected to difficult memories of the past
Intended for in-session use, this flip chart features:
A two-sided design that stands upright for easy visibility and portability
27 exercises, diagrams, and photos on client-facing pages with detailed explanations and supplemental prompts on therapist-facing pages
Therapeutic Yoga for Trauma Recovery
Based upon Dr. Schwartz's Vagus Nerve Yoga, Therapeutic Yoga for Trauma Recovery walks you through the sacred path of yoga to facilitate your own courageous journey of self-discovery that will help you release the adverse effects of trauma from your body and mind. You will be invited to become a compassionate witness to your mind, explore conscious breathing, and discover mindful movement practices that enhance your mental, emotional, and physical health.
If you are a therapist or yoga teacher, you will learn how to guide your clients or students through yoga practices that facilitate trauma recovery. The addendum of this book offers guidance on how to design a sequence of postures for an individual client or student, as well as a framework for creating a six-week therapeutic yoga class for a group of students.
"Arielle masterfully bridges her well-developed model of therapeutic yoga with polyvagal theory. In doing so, she has creatively found paths to support the recovery of her readers as they share, through the powerful and insightful tools embedded in yoga, a journey of re-embodiment, co-regulation, healing, and discovery." (From the Foreword)
—Stephen W. Porges, PhD
The Complex PTSD Treatment Manual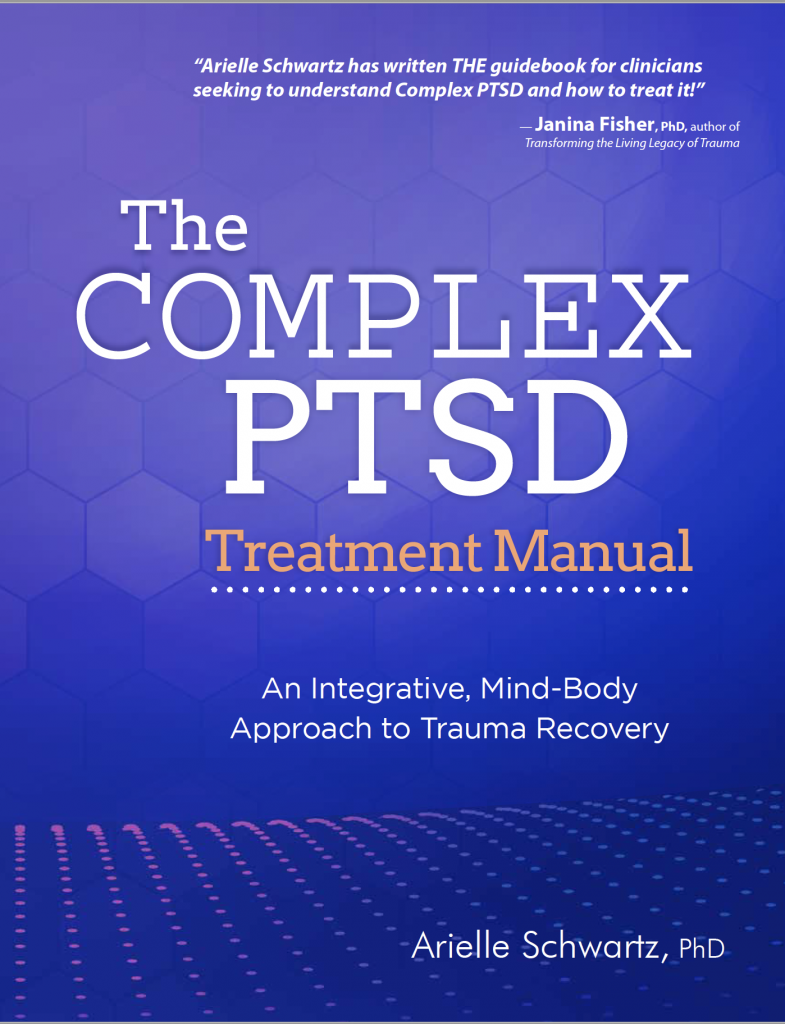 The Complex PTSD Treatment Manual: An Integrative Mind-Body Approach to Trauma Recovery is written for clinicians who are helping clients navigate the consequences of repeated or chronic traumatization. This is a roadmap for therapy with clients who have experienced prolonged and chronic exposure to traumatic events.
This book offers a deep dive into the ways in which therapy is a combination of head and heart, of science and art. A mind-body approach to trauma recovery is now recognized as essential to successful treatment for we simply cannot think our way out of these innate, physiological responses to trauma. Successful treatment requires a compassionate therapeutic relationship and effective, research-based interventions. This integrative model brings together relational therapy, mindful body awareness, parts work therapy, cognitive behavioral therapy (CBT), eye movement desensitization and reprocessing (EMDR), somatic psychology, and practices drawn from complementary and alternative medicine (CAM).
"Arielle Schwartz has written THE guidebook for clinicians seeking to understand complex PTSD and how to treat it! On every page, she interweaves up-to-date theoretical ideas with practical clinical wisdom. Every word of this book can easily be implemented by therapists regardless of their training or approach."
Janina Fisher, PhD, author of Transforming the Living Legacy of Trauma: A Workbook for Survivors and Their Therapists
The Post Traumatic Growth Guidebook
The Post Traumatic Growth Guidebook: Practical Mind-Body Tools to Heal Trauma, Foster Resilience, and Awaken your Potential provides resources to help you connect to your inner strength and wisdom. This Award Winning book invites you to see yourself as the hero or heroine of your own life journey. A hero's journey involves walking into the darkness on a quest for wholeness. This interactive format calls for journaling and self-reflection, with practices that guide you beyond the pain of your past and help you discover a sense of meaning and purpose in your life. Successful navigation of a hero's journey provides opportunities to discover that you are more powerful than you had previously realized.
"An extraordinary guide through the non-linear process of trauma recovery, written with the wisdom of a deep, compassionate, skillful Teacher and Therapist. This is a book to be savored and worked with slowly, in sections over time, alone or explored in therapy. For those just beginning, the first two Chapters are a remarkably gentle introduction to the terrain of trauma and healing, of therapy and resilience. The mid-section explores the 'heavy lifting' of trauma work, best supported by a secure therapeutic relationship. The final two chapters weave together the extraordinary gifts of transformation inviting us to explore the deepest meaning-making that is so often the 'silver lining' of recovery. I recommend this book wholeheartedly to laypersons, clients, and Clinicians – both seasoned and emerging. A gift for all of us.
Carol Anna McBride, The Trauma Project
Trauma Recovery (Audio Program with Sounds True)
The aftermath of a single event or repeated trauma can profoundly shape how we experience the rest of our lives. Whether it occurred in childhood, a recent relationship, a catastrophe, or other situation, trauma can have lifelong effects: anxiety, depression, chronic health issues, flashbacks, a disconnection from the body, trust and intimacy challenges, or feeling worthless and broken. Yet, as impossible as it may seem now, you can return to wholeness. Trauma Recovery brings us a compassionate and practice-oriented audio resource for transformation and growth. Intended to complement one-on-one therapy, this course guides us into the current research on PTSD and complex PTSD (trauma caused by multiple events), symptoms, and the most effective modalities?enriched with many guided exercises. You'll explore: the neurobiology of PTSD, somatic (body-based) therapies, trauma-specific mindfulness practices, cognitive behavioral strategies, EMDR, parts work therapies, relational-cultural therapy, and more. Click Here to Order!
EMDR Therapy and Somatic Psychology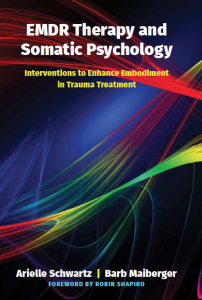 This book serves as a guide to help EMDR practitioners integrate somatic therapy into their sessions and to meet the growing interest in a synthesis of Somatic Psychology with EMDR Therapy as a comprehensive trauma treatment model. This integrative treatment model will teach you how to invite the client to sense and feel the body as a foundation for working through traumatic memories in a safe and regulated manner in order to facilitate lasting integration. Click Here to order on Amazon.
"[A] wonderful resource for both therapists-in-training and practicing therapists. . . . It is clear that Schwartz and Maiberger collectively carry a vast amount of experience as trainers, authors and therapists. Their combined knowledge carries a dense weight; however, their writing skills create a load that is easily carried regardless of where the reader may be in their training. . . . From training rooms to private practice, EMDR Therapy and Somatic Psychology is recommended text for any therapists or trainees interested in these areas."
Psych Central
"This pioneering book broadens the reach and enhances the efficacy of EMDR by masterfully integrating select body psychology interventions into EMDR protocols for the treatment of trauma. Providing an overview of somatic psychology theory and neuroscience, as well as accessible experiential exercises and techniques, the authors have written a landmark volume that will be of tremendous use to EMDR therapists everywhere who want to include the body in their clinical practice."
Pat Ogden PhD, Founder, Sensorimotor Psychotherapy Institute; author Trauma and the Body and Sensorimotor Psychotherapy
The Complex PTSD Workbook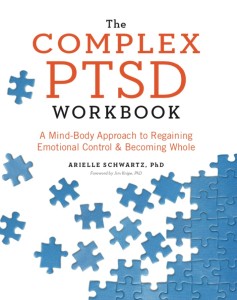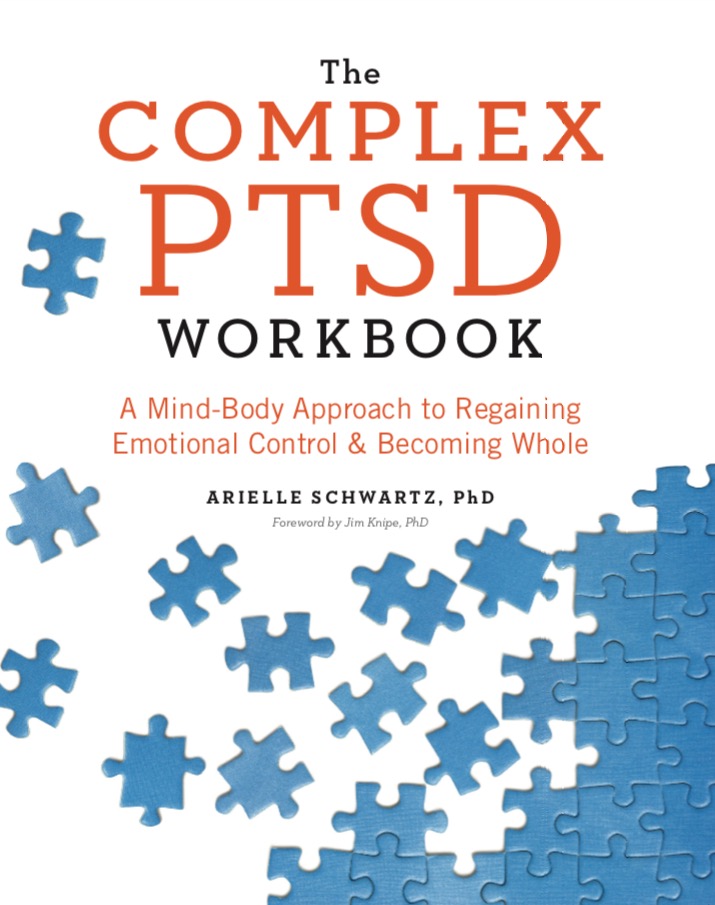 The Complex PTSD Workbook applies a mindful, strength-based perspective and offers a synthesis of therapeutic methods for healing including somatic therapy, EMDR, CBT, DBT, and mind-body perspectives. Written for the client and loved by therapists, this book will offer a guided approach to trauma recovery with structured exercises accompanied by Dr. Schwartz's compassionate writing style. It is like having a caring therapeutic conversation available any time you need a little encouragement that healing is possible! Click here to increase your toolbox for healing.
"I highly recommend this book to anyone who struggles with childhood trauma and neglect, and their painful aftermath. Step-by-step, you will find rich resources to help yourself on your journey to wholeness. Therapists who work with both mind and body will also find this a welcoming and integrative book."
Kathy Steele, MN, CS, private practice and co-author of Treating Trauma-related Dissociation, Coping with Trauma-Related Dissociation, and The Haunted Self
A Practical Guide to Complex PTSD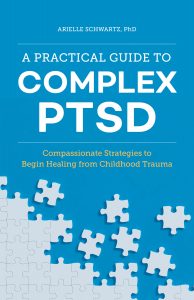 As a compliment to the Complex PTSD Workbook, A Practical Guide to Complex PTSD: Compassionate Strategies for Childhood Trauma, is meant to provide compassionate support for the process of healing from childhood trauma. You can think of it as a lantern that will illuminate the dark spaces and provide a sense of hope in moments of despair. The practical strategies you will learn in this book are taken from the most effective therapeutic interventions for trauma recovery. You will learn the skills to improve your physical and mental health by attending to the painful wounds from your past without feeling flooded with overwhelming emotion. My wish is to help you discover a new sense of freedom. The traumatic events of your past no longer need to interfere with your ability to live a meaningful and satisfying life. Click here to Order on Amazon.
"Dr. Arielle Schwartz has created a profound resource for healing from complex trauma. With compassion, care, and wisdom, Dr. Schwartz guides the reader to both understand how their psyche and body has been affected by trauma, and also how to gently move toward growth. A Practical Guide to Complex PTSD is an extraordinary addition to anyone's healing toolbox. I highly recommend this important book."
Andrea M. Kolber, MA, LPC, NCC, Author of Try Softer
About Dr. Arielle Schwartz
Dr. Arielle Schwartz is a licensed clinical psychologist, wife, and mother in Boulder, CO. She offers trainings for therapists, maintains a private practice, and has passions for the outdoors, yoga, and writing. She is the developer of Resilience-Informed Therapy which applies research on trauma recovery to form a strength-based, trauma treatment model that includes Eye Movement Desensitization and Reprocessing (EMDR), somatic (body-centered) psychology and time-tested relational psychotherapy. Like Dr. Arielle Schwartz on Facebook, follow her on Linkedin and sign up for email updates to stay up to date with all her posts.