Applied Polyvagal Theory in Yoga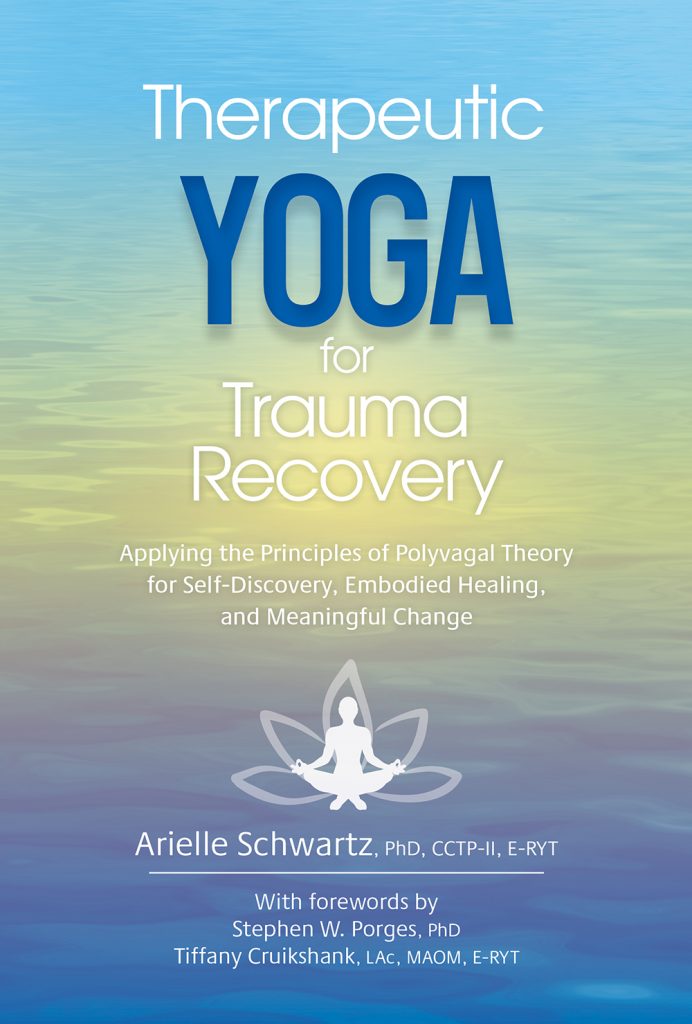 Therapeutic Yoga for Trauma Recovery
Trauma recovery is as much about healing the body as it is the mind.
Yet, so often, the focus of healing involves retelling the story of the past without addressing the physiological imbalances that trauma leaves in its wake.
Therapeutic Yoga for Trauma Recovery bridges this path of healing between the psyche and the body by walking you through the sacred practice of yoga so you can release the burdens of trauma from your body and mind.
Grounded within the principles of polyvagal theory, affective neuroscience, and trauma-informed care, this book will help you gain a better understanding of how our brains and bodies respond to stress and trauma and offer a self-led healing journey toward feeling more empowered, grounded, clearheaded, inspired, and at ease.
This book introduces you to the power of the yogic philosophy and offers a variety of accessible yoga poses and breathing practices that will allow you to:
Nourish your nervous system
Reconnect with your body
Ground yourself in the present moment
Release unresolved patterns of fight, flight, freeze, or faint
Widen your ability to tolerate emotional discomfort
Develop a felt sense of resilience
Anchor yourself in self-love
Reclaim connection with and trust in your body
Create a personalized yoga practice for your own self-care
Based upon Dr. Schwartz's Vagus Nerve Yoga, Therapeutic Yoga for Trauma Recovery walks you through the sacred path of yoga to facilitate your own courageous journey of self-discovery that will help you release the adverse effects of trauma from your body and mind. You will be invited to become a compassionate witness to your mind, explore conscious breathing, and discover mindful movement practices that enhance your mental, emotional, and physical health.
If you are a therapist or yoga teacher, you will learn how to guide your clients or students through yoga practices that facilitate trauma recovery. The addendum of this book offers guidance on how to design a sequence of postures for an individual client or student, as well as a framework for creating a six-week therapeutic yoga class for a group of students.
Self Discovery, Embodied Healing, & Meaningful Change
Although traditional yoga classes often emphasize perfecting your alignment or focusing on achieving the external shape of a posture, the goal of therapeutic yoga is not to achieve "perfect" symmetry. Instead, each practice within this book will encourage you to honor your own experience and to listen to your feelings and sensations as wise teachers that will help guide your healing process.
The journey toward embodiment integrates the principles of somatic psychology and body-oriented therapies into yoga. Each practice encourages you to listen to your body's wisdom as a guide for movement, physical healing, and spiritual transformation. Initial practices focus on energizing your body with instinctual movements that will help you come out of patterns of freeze, flight, fight, or faint. The progression of the book invites you to settle your body and mind with restorative practices that evoke a gentle opening of your physical and spiritual heart.
You can tailor all of the practices in this book to meet your individual needs through a commitment to listening to your sensations and responding with movements that are unique to you.
The yogic path ultimately invites you to embark on a spiritual quest for self-discovery. Through your commitment to practice, you accumulate a reservoir of embodied wisdom that resides within you. Choosing to engage wholeheartedly in this complex and hurting world is a profound spiritual path. To lead with an open heart, you must learn to turn toward your own wounds while simultaneously recognizing that the events of your past do not need to define your future.
Applied Polyvagal Theory in Yoga
Through the lens of interpersonal biology, polyvagal theory, and somatic psychology, you will explore the physiological underpinnings of how stressful or traumatic events take their toll on your mind and body. The vagus nerve is the tenth cranial nerve and can best be described as a bidirectional communication highway between your body and your brain. The term vagus is Latin for "wandering," which is an apt descriptor for a nerve that extends from the brainstem into the stomach, intestines, heart, lungs, throat, and facial muscles.
Individuals with a history of trauma often experience disruptions in their autonomic nervous system, known as dysautonomia. Dysautonomia typically refers to a reduction in vagal tone as seen in a rapid drop in heart rate, blood pressure, and muscle tone upon standing. For many, these experiences are followed by emotional dysregulation or feelings of panic.
Learning how to regulate the vagus nerve can improve both your mental and physical health. You have the ability to alter your physiology through conscious, mindful changes in the pace and length of your breath. For example, long, slow exhalations stimulate the vagus nerve, which initiates a parasympathetic relaxation response that calms your body down. In addition, because the vagus nerve runs through the face, ears, and neck, it can also be quite beneficial to self-massage these areas of your body. Self-touch combined with self-compassion also provides a tender way of parenting yourself as you care for your most vulnerable feelings
From the Preface…

I was first introduced to yoga in 1979, when I was seven years old, while taking family vacations to ashrams in rural Pennsylvania and upstate New York. I carry two distinct memories from those trips. The first memory involves sitting in the children's room, where I learned about a light that lives inside of each of us, and I felt a sense of warmth and ease settle in my body. The second memory is attending an evening ritual in a large, dimly lit hall that was filled with the sounds of people chanting and the scent of incense burning. One by one, people filed toward the front of the room to receive shaktipat, which is a kind of transmission of energy where the guru uses their inner light to ignite or wake up another person's inner light. I walked to the front of the room with my mother and stepfather until we reached Swami Muktananda, who touched the tops of our heads with a peacock feather. The next day we traveled back home. Within a few weeks, our house caught on fire, destroying everything inside. My mother and stepfather had an eerie feeling that the shaktipat had ignited more than our inner light.
At the time of the fire, I was staying at my father's house, as my parents had gone through a conflictual divorce when I was four years old. My early memories of their fights are accompanied by vague sensory memories of feeling afraid and lonely. From that point forward, my life was defined by the rhythm of traveling back and forth between their markedly different households…Between the divorce and the fire, I had experienced two substantial disruptions to my sense of safety in the world before my eighth birthday. As a result, I still carry within me a visceral knowing of groundlessness.
My experiences of yoga offered me a sense of freedom and playfulness that served as powerful antidotes to the losses that dominated my early life. My imagination helped me transcend the desks, books, numbers, and maps that filled the classroom. I could temporarily forget about being uprooted from my soot-filled home. I had a respite from my worries. I was a tree with roots that extended deep into the earth and branches that reached up into the sky. I was a ferocious lion who could roar courageously. I was the crescent moon shining my light for all to see…
As I grew older, the yoga classes that carried me through that pivotal year faded into the past. I felt increasingly uncomfortable and awkward for reasons I could not yet understand. Only years later did I realize that I was shrouded in shame from my childhood wounds, and it nearly swallowed me whole…
I continued to cut myself off from my emotions until my senior year of college, when a friend of mine invited me to attend a yoga class. Breathing and moving my body brought me back to a familiar ground. Within a year, I committed myself to a daily practice and began therapy. With the compassionate guidance of caring yoga teachers and psychotherapists, I learned to trust my own capacity to ride emotional waves as they arose on and off the yoga mat. I accepted that allowing another person to see my pain was essential to my healing journey. I concluded that while we cannot change what happened in the past, living in the here and now empowers us to shape the future…
In this book, I offer you the yogic philosophy and practices that consistently bring me home to myself. It is my greatest hope that these pages will help you connect to the wisdom that resides within your body, mind, and spiritual heart. May this guided journey support you to cultivate a reliable felt sense of ease and equanimity that radiates from your inner light out to the world.
A Healing Path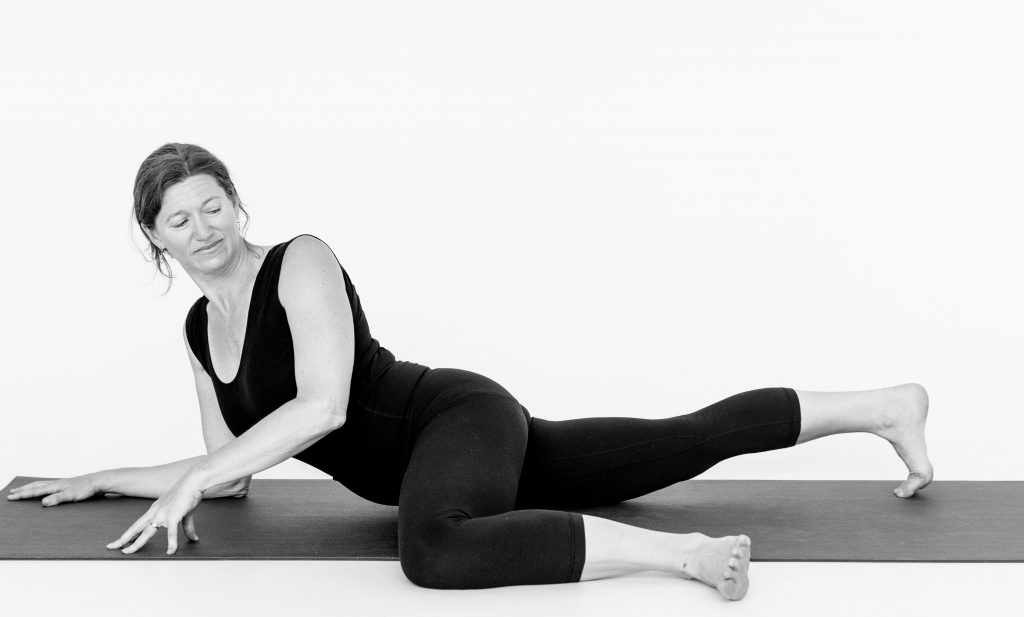 Like a mosaic, it is always the small pieces that make up the big picture in a yoga practice. Each time you step on your yoga mat, you combine a variety of breath, movement, and body-awareness practices that facilitate your growth and help you create meaningful change. Collectively, they allow you to evolve into a bigger picture that is the ongoing creation of your life.
My greatest hope is that the words and guided practices in this book have helped you access your embodied wisdom and strengthen your connection to your deepest self—that this journey to the heart has invited you to soften and let go of your defenses so you can more easily align with your true nature of kindness, generosity, love, and compassion.
Praise for Therapeutic Yoga

"Arielle masterfully bridges her well-developed model of therapeutic yoga with polyvagal theory. In doing so, she has creatively found paths to support the recovery of her readers as they share, through the powerful and insightful tools embedded in yoga, a journey of re-embodiment, co-regulation, healing, and discovery." (From the Foreword)
—Stephen W. Porges, PhD, distinguished university scientist and founding director of the Traumatic Stress Research Consortium, Kinsey Institute, Indiana University Bloomington; professor of psychiatry, University of North Carolina at Chapel Hill
"In Therapeutic Yoga for Trauma Recovery, Dr. Arielle Schwartz blends the insights learned through modern science with the intuitive, ancient wisdom of traditional practices. As an acupuncturist and yoga teacher trainer, I have witnessed yoga practice be transformative for thousands of students, teachers, and clinicians alike. I am deeply grateful to Dr. Schwartz for so beautifully articulating the importance, versatility, and meaning of yoga practices in healing, and for showing us how to anchor these practices in compassion and sustainable growth." (From the Foreword)
—Tiffany Cruikshank, LAc, MAOM, E-RYT, founder of Yoga Medicine®
"This excellent resource on trauma therapeutics fits well as a training text for schools or a personal journal and activity roadmap to wellness. It is scholarly, science-backed, and packed with apt definitions of our current understanding of neuropsychology. But what I love most about Arielle's way of addressing trauma is that she doesn't see the process as grim, but as an inviting, warm, and curious adventure that we undertake with every part of our humanness. She cleverly reframes classic movement and breath and offers new somatic/embodiment work. Arielle eliminates any rigidity around looking within, so even meditation seems more approachable. This is clearly a labor of love, and applying the wisdom of this book gives us a glimpse of smarana, remembering who we are."
—Beth Spindler, C-IAYT, E-RYT 500, yoga therapist, teacher, and author of Yoga Therapy for Fear: Treating Anxiety, Depression and Rage with the Vagus Nerve and Other Techniques
"Trauma: a tale as old as human life on this planet. Over thousands of years, many powerful healing modalities have emerged to guide people back to an experience of wholeness. Therapeutic Yoga for Trauma Recovery brilliantly illuminates these modalities by weaving together major systems of trauma recovery: yoga, embodiment, and polyvagal theory. Dr. Schwartz offers an empowering holistic guide to reclaiming your deepest sense of belonging: to yourself, to others, and the world around you. I highly recommend this book for those currently on their personal journey, as well as anyone working as a practitioner."
—Scott Lyons, PhD, RYT-500, founder of The Embody Lab
"The science of self-care has grown by leaps and bounds over the past few decades. We now know that regular self-care practices offer an essential tool to navigate the inevitable ups and downs of life on planet earth. With her new book, Dr. Arielle Schwartz has created an incredible resource for how we can integrate the important findings from polyvagal theory with ancient yogic breath, movement, and awareness practices. The result is a must-have guide to the numerous techniques yoga offers for fostering greater well-being and balance in life."
—Eva Norlyk Smith, PhD, president, YogaUOnline.com
"In her newest book, Arielle's expert voice invites us into the sacred space of self, knowingness, and healing with the authentic poignance of one who has traveled the journey themselves. It is with loving kindness and compassionate wisdom that she invites us to experience new opportunities for healing through connecting inward using powerful and valuable tools that will transform your relationship with your body and, ultimately, with yourself."
—Kate Truitt, PhD, MA, MBA, CEO of the Trauma Counseling Center and Havening Techniques® global director of research and curriculum development
"In her newest book, reflective of a lifelong journey, Dr. Schwartz brings forth a brilliant synthesis of the bodies of wisdom that have illuminated her path of healing. The reader is guided through a journey toward embodied healing that is rooted in compassion, curiosity and care. Through her gift for writing, she offers a wise, deeply human and heart-centered perspective that empowers the reader to be with the inherently multifaceted experience of being alive. As a collective, we are being called to remember our shared humanity. As we reorient to this new path, Arielle's book is a wise and warm ally helping to light the way."
~Amy Annesley, LCSW, EMDR CIT, psychotherapist, yoga student, friend
"In Therapeutic Yoga for Trauma Recovery, Dr. Arielle Schwartz combines her extensive background and experience working with trauma survivors with a warm and welcoming style. The book covers a lot of ground, addressing the needs of yoga teachers, students, and therapists when working with a trauma-informed approach to yoga practice. I was particularly impressed with the practical therapeutic guidelines in the appendix for individual yoga therapy sessions and for a six-week therapeutic class, where she recommends specific movement and breathing exercises from the text."
—Joann Lutz, MSW, LICSW, C-IAYT, E-RYT, author of Trauma Healing in the Yoga Zone: A Guide for Mental Health Professionals, Yoga?Therapists, and Yoga Teachers
"Arielle's teachings weave together deeply embodied knowledge, accessibility, and heart. The tools she offers provide a pathway toward hope in these incredibly trying times. Arielle has a way of connecting that is clear, compassionate, and impactful. Her work has never been needed more, and I am looking forward to sharing this offering with my students. What I know is this: When we use the tools offered to us in Arielle's book, we have the ability to not only heal ourselves, but to heal the world."
—Lauren Lewis, mother, yoga teacher, chef, and student
"Therapeutic Yoga for Trauma Recovery is a magnificently written new book by Arielle Schwartz. You will be empowered to understand your nervous system and the vagus nerve as never before. Dr. Schwartz's expertise and compassion shine through each chapter. You can count on her as a reliable guide on your healing journey. This book will take you on a deeper dive into yoga as a path for recovery. I highly recommend it!"
—Joanne Spence, BSW, MA, E-RYT 500, C-IAYT, author of Trauma-Informed Yoga: A Toolbox for Therapists
"Embodiment practices and the health of the nervous system are key components of contemporary psychology and physical well-being. Dr. Arielle Schwartz does it all well. In this book, she is a brilliant cartographer of the nervous system and she shows us, through her deft integration of ancient yoga practices and contemporary polyvagal theory, that choice and safety can be cultivated through embodied breath, conscious movement, and stillness. There are many wise clinical pearls embedded in this book that I regularly use with my patients to soothe trauma imprints, which so often show up as neurologic patterns such as cognitive decline or chronic illness. One of the root causes of trauma is disconnection, and Arielle shows us how to reconnect with ourselves and with each other, even more so if you have the opportunity to practice trauma-informed yoga with her. How fortunate we all are that Arielle shares her highly evolved mastery with us in this jewel of a book as a path to waking up and healing the nervous system of the world."
—Ilene Naomi Rusk, PhD, clinical psychologist, neuropsychologist, and director of the Healthy Brain Program at the Brain and Behavior Clinic
"As a medical physician addressing the effects of stored trauma on our biology, I consider this book a must-read for all professionals who work with people who have a human body. This is not just for trauma, though it will be a game-changer for those who have trauma patterns. By applying polyvagal theory to embodiment yoga in her wonderful and unique way, Arielle has just set a new standard for working with the body and a chronic freeze response."
—Aimie Apigian, MD, MS, MPH
"A treasure for any somatic psychotherapist and seeker of trauma healing alike. Dr. Schwartz elegantly guides the self-discovery process through integrating two powerful healing systems. The practical application of yoga, the ancient body wisdom practice, with the contemporary neurophysiological model of trauma recovery is an effective offering. This trauma-informed lens empowers the inner healer that is both gentle and transformative. These precise and accessible practices will benefit trauma well-being and enhance any clinician's skill set that values somatic therapies."
—Manuela Mischke-Reeds, LMFT, author of Somatic Psychotherapy Toolbox, director of Hakomi Institute of California, and founder of Innate Somatic Intelligence Trauma Therapy Approaches
About Dr. Arielle Schwartz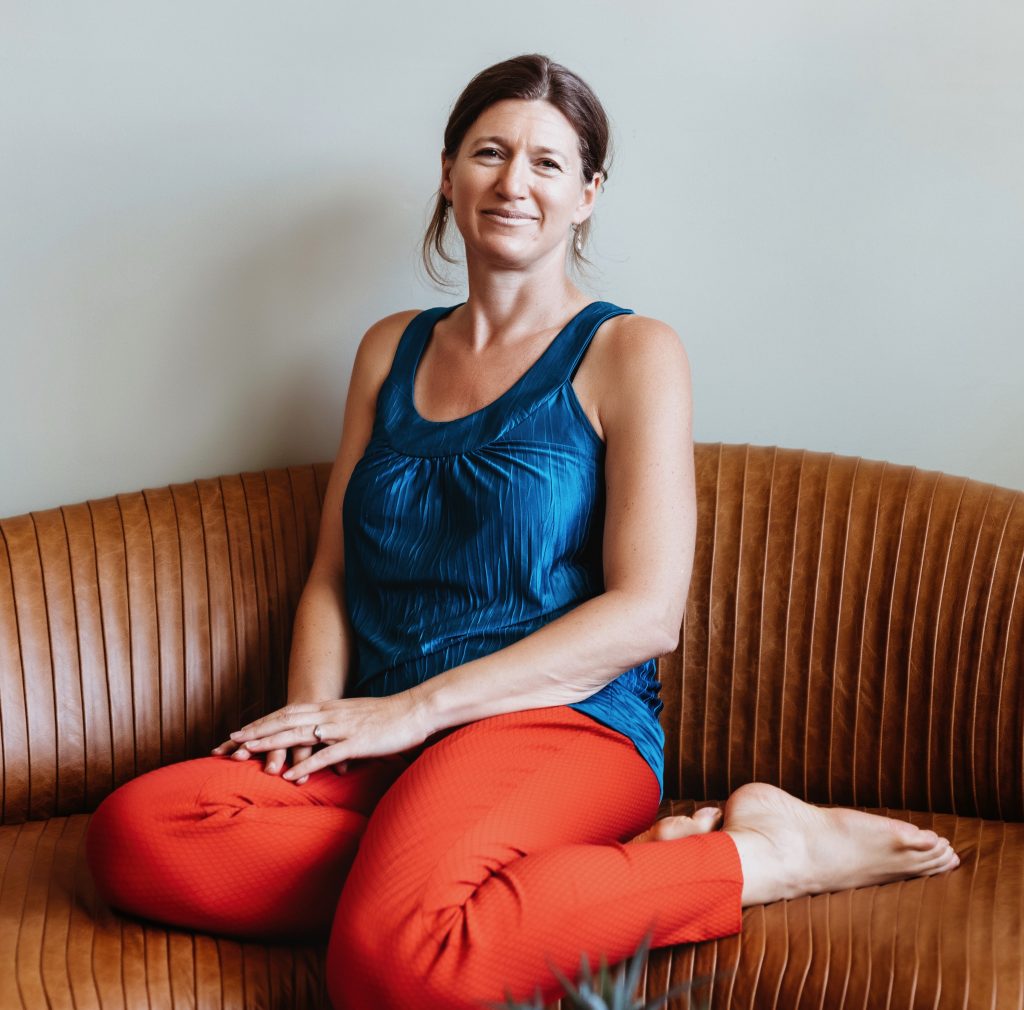 Arielle Schwartz, PhD, is a psychologist, internationally sought-out teacher, yoga instructor, and leading voice in the healing of PTSD and complex trauma. She is the author of five books, including The Complex PTSD Workbook, EMDR Therapy and Somatic Psychology, and The Post Traumatic Growth Guidebook.
Dr. Schwartz is an accomplished teacher who guides therapists in the application of EMDR, somatic psychology, parts work therapy, and mindfulness-based interventions for the treatment of trauma and complex PTSD. She guides you through a personal journey of healing in her Sounds True audio program, Trauma Recovery.
She has a depth of understanding, passion, kindness, compassion, joy, and a succinct way of speaking about very complex topics. She is the founder of the Center for Resilience Informed Therapy in Boulder, Colorado where she maintains a private practice providing psychotherapy, supervision, and consultation. Dr. Schwartz believes that that the journey of trauma recovery is an awakening of the spiritual heart.