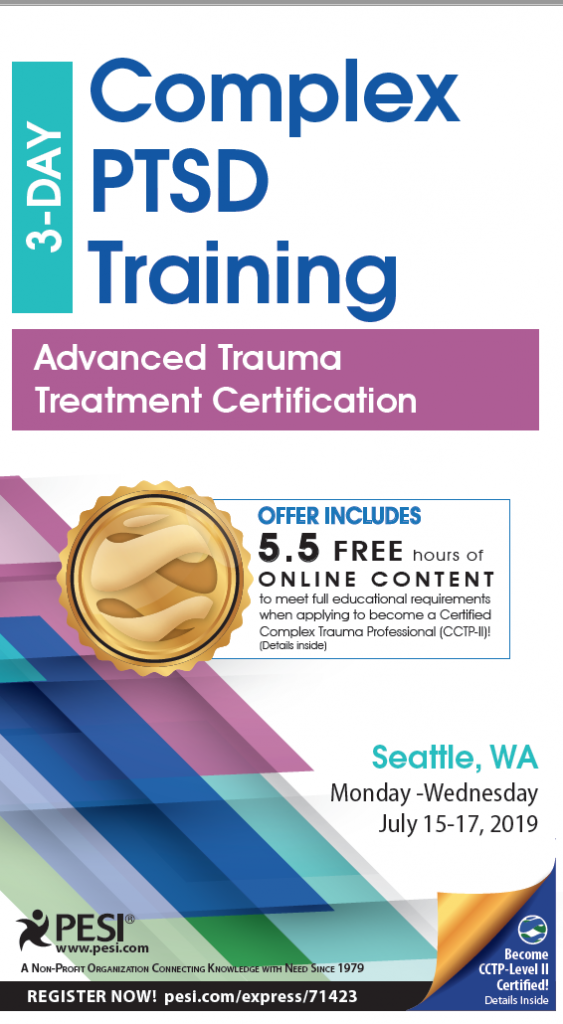 PESI Dates and Locations
Seattle, Washington: Monday, July 15, 2019 – Wednesday, July 17, 2019 Sign up to join me in Seattle
Cleveland, Ohio Monday, August 19, 2019 – Wednesday, August 21, 2019 Sign up to join me in Ohio
Course Description:
Many clinicians are trained in the treatment of single traumatic events, but are not fully equipped to treat Complex PTSD. The traditional approaches to the treatment of PTSD can fall short when working with clients with Complex PTSD. Attend this workshop to learn how you can adapt your therapeutic approach to help clients diagnosed with Complex PTSD achieve more successful outcomes.
The most common question asked when treating Complex PTSD is, "where do I start?". In this training, you will develop confidence in your ability to successfully organize and prioritize your client's treatment goals. You will learn how to compassionately and effectively work with clients who have experienced multiple traumatic events and prolonged trauma exposure.
Successful treatment requires a compassionate therapeutic relationship and effective, research-based interventions. At this three-day workshop you will learn how to:
Help clients move out of crisis by building stabilizing resources
Prepare clients to work through traumatic memories without becoming overwhelmed
Develop an integrative trauma treatment plan that includes CBT, DBT, EMDR Therapy, Somatic Psychology, Parts Work Therapy, and Complementary and Alternative Medicine (CAM).
Join Dr. Arielle Schwartz, author and trauma expert, in this engaging and interactive seminar to learn valuable strategies that will allow you to successfully address the dysregulated affect and arousal states that accompany complex PTSD. You will leave this seminar with practical tools that facilitate a strength-based approach to trauma recovery and increased resilience in clients.