Welcome, Friends!
These webinars are intended to be accessible to all who are exploring healing tools-therapists and those on healing journeys alike.
Join my email list below to stay up-to-date with upcoming webinars, summit presentations, yoga classes and more!
---
BIPOC Scholarships available, please email info@drarielleschwartz.com for more information.
---
You're Invited! Explore Healing with Dr. Schwartz Today.
---
Recorded Webinars
Vagus Nerve Yoga: Simple Practices to Enhance Wellbeing
Price: $45

Chronic stress and trauma can take a toll on our physical and mental health. The portion of the nervous system that functions without our conscious awareness is called the autonomic nervous system (ANS) which either mobilizes energy through our sympathetic nervous system or conserves energy through our parasympathetic nervous system. The autonomic nervous system is regulated by the vagus nerve which connects the brain to all of the major systems in the body. The vagus nerve is a bi-directional information highway between mind and body. Through the lens of polyvagal theory, this webinar will guide you experientially through practical and accessible yoga breath, movement, and awareness practices aimed to enhance your wellness of your mind and body.
Broadly speaking, the vagus nerve is always associated with the parasympathetic nervous system and has an inhibitory influence upon sympathetic nervous system activity. Simply put, activation of the vagus nerve reduces stress. However, the polyvagal theory recognizes that the parasympathetic nervous system has two presentations that depend upon whether you feel safe or feel threatened. In times of safety, the parasympathetic nervous system facilitates rest, relaxation, and digestion. However, in times of threat the parasympathetic nervous system has a defensive mode leading us to collapse or shut down.
The vagus nerve passes through the belly, diaphragm, lungs, throat, inner ear, and facial muscles. Therefore, when we mindfully move and breathe into these the areas of the body we can enhance our wellbeing through the mind-body feedback loop. Basic vagus nerve yoga practices can leave you feeling refreshed, empowered, and calm.
This experiential 2-hour journey through vagus nerve yoga will include lecture and movement. Please wear comfortable clothes, bring a water bottle, and have either a yoga mat or a blanket to support your practice. Within this webinar, we will:
Learn polyvagal theory as related to therapeutic yoga
Explore how to naturally and gently enhance the health of your vagus nerve with yoga
Discuss the connective tissue and fascial system as related to yoga poses
Explore postures that can form the basis of a home-based therapeutic yoga practice
---
Pain, Parts, Body, and Identity: Addressing Dissociative Symptoms in Complex PTSD
Price: $45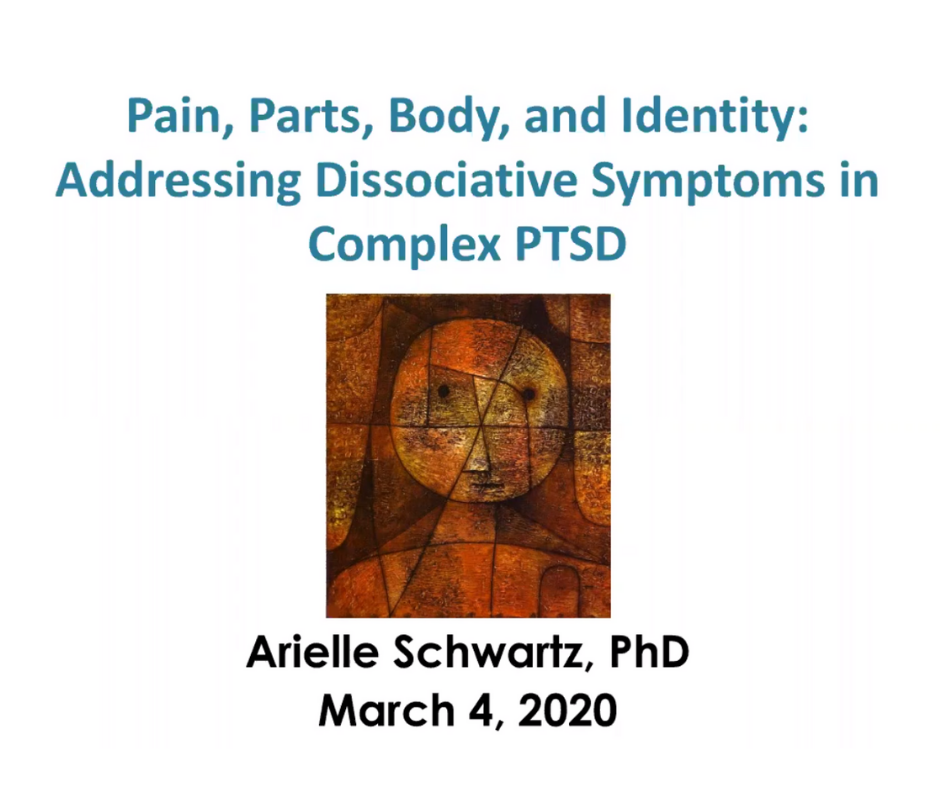 This webinar explores the intersection of parts work, somatic therapy, and EMDR therapy in the treatment of dissociative symptoms in Complex PTSD. Together, we will explore different perspectives on working with our parts in therapy and the ways in which disowned parts can lead to dissociative or somaticized symptoms. We will explore how to identify when parts are present. We will also discuss how preverbal trauma is more likely to contribute to dissociative symptoms and how somatic therapy can help us access the younger parts of self. We also explore why and how to modify EMDR therapy when dissociative symptoms are present.
---
Somatic Psychology: Interventions to Enhance Embodiment in Trauma Treatment
Price: $45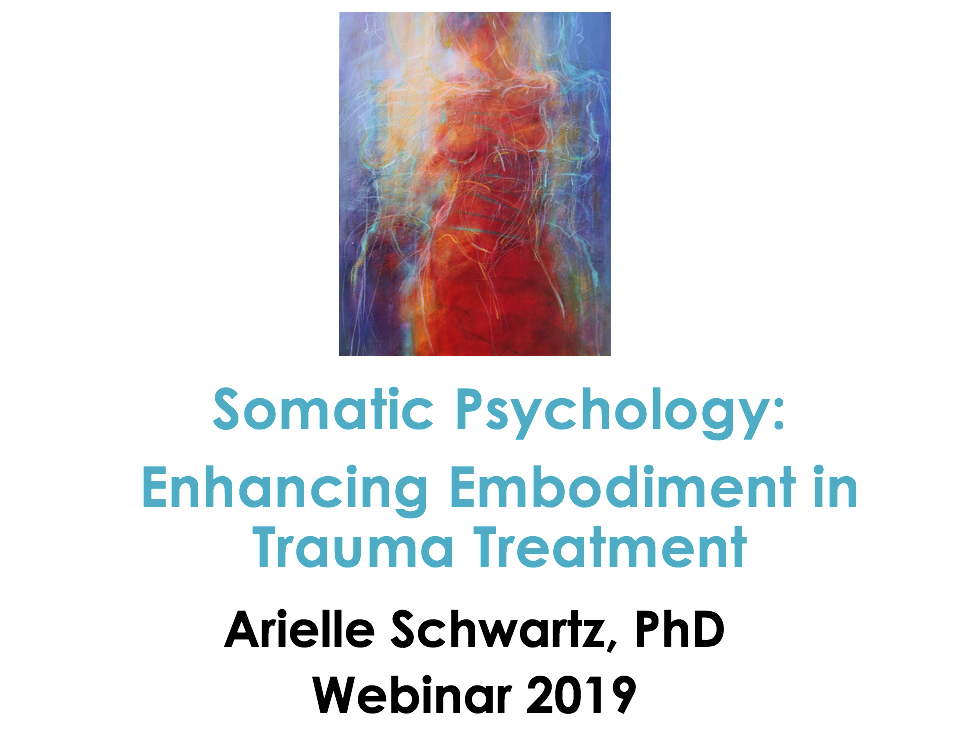 Somatic Psychology emphasizes body awareness as an essential part of psychotherapy. This is especially beneficial in the treatment of PTSD when symptoms involve physiological distress or dissociation. Traditional approaches to therapy attend to your thoughts and emotions; but they can fail to attend to your body. However, you can enhance your healing journey by engaging your breath, attending to your sensations, or moving your body. Unfortunately, we are often taught to sit still and override movement impulses. As a result, the effects of stressful or traumatic events tend to persist long after events have passed. Interventions to enhance embodiment in trauma treatment expand the therapeutic experience beyond where words can you.
In this engaging and informative webinar, Dr. Arielle Schwartz will teach you the key principles of somatic psychology. We will look at the history of body psychotherapy and explore modern day approaches. If you are on your own healing journey, you will come away better informed about how to bring your body into your own therapy. If you are a therapist, you will gain greater understanding for why the body is essential for helping clients heal from PTSD.
Within this webinar, we will:
Discuss the value of working mindfully, slowly, relationally, and experientially.
Look at the relationship between culture and embodiment
Explore specific interventions to enhance embodiment in trauma treatment
Review the history of somatic psychology a related to the most common modern body psychotherapies.
---
Mind-Body Therapies: Vagus Nerve Regulation and Trauma Recovery
Price: $45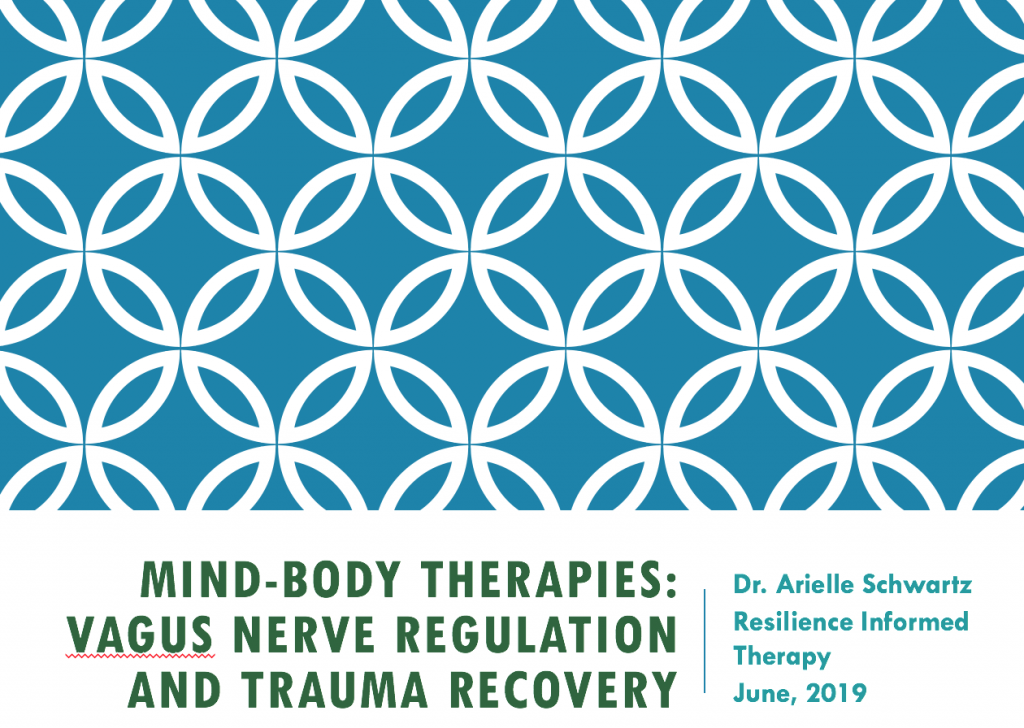 In the years since the Adverse Childhood Experiences study (Felitti, 1998) research has concluded that there is undeniable connection between childhood trauma and our health. Importantly, complementary and alternative medicine and mind-body therapies can help us to calm down anxiety, reduce chronic illness symptoms, support digestion, and improve our sleep. Mind-body therapies such as mindfulness, yoga, relaxation, breath practices, support the vagus nerve. They help you to increase your resilience allowing you to calm down unnecessary defenses and reclaim a sense of safety.
At this engaging and interactive webinar, psychologist and certified Kripalu yoga instructor, Dr. Arielle Schwartz, will take you through an interactive exploration of the mind-body therapies for vagus nerve regulation. You will learn about her approach to therapeutic yoga for trauma recovery and discover leading-edge strategies that allow you to successfully address the dysregulated arousal states that arise when you have experienced trauma. She explains practical tools to increase your resilience.
Whether you are a psychotherapist seeking to increase your toolbox or are on your own healing journey, you will receive heart-felt guidance and practical strategies for healing. Within this webinar, you will:
Understand the connection between trauma and your health as related to the vagus nerve.
Learn what current research is revealing about the efficacy of mind-body therapies for trauma recovery.
Discover specific yogic movement and breathing practices that can help you find balance during times of stress.
Connect to a community engaged in healing from trauma.
---
Resilience Informed Therapy: An Integrative Approach to Trauma Treatment
Price: $45

At this engaging and interactive webinar, Dr. Arielle Schwartz shares valuable leading-edge strategies that allow you to successfully address the dysregulated affect and arousal states that accompany PTSD and Complex PTSD. You will learn practical tools that facilitate a strength-based approach to trauma recovery and increased resilience.
Resilience is defined as the ability to flexibly adapt to traumatic life events. This ability to "bounce back" from traumatic events is deeply connected to having the resources to work through difficult life experiences. Resilience is not a trait that you either have or do not have; it is a set of strategies that can be learned and practiced.
This webinar is designed for anyone seeking to better understand an integrative model for treating trauma. Whether you are a psychotherapist seeking to increase your toolbox or are on your own healing journey, you will receive heart-felt guidance and practical strategies for healing. Within this webinar, you will:
Discover an integrative model for the treatment of trauma that includes EMDR Therapy, Somatic Psychology, Parts Work Therapy, DBT, and mind-body therapies
Explore practical interventions to work with trauma that is held in the body
Understand how mind-body therapies create physiological changes to help heal PTSD
Learn the behaviors and beliefs associated with resilience after trauma exposure
And…You will receive a resource packet with the information shared in this webinar with practical tools to support trauma recovery and build resilience. This includes a sneak peek at my newest book on post traumatic growth.
---