A Journey of Resilience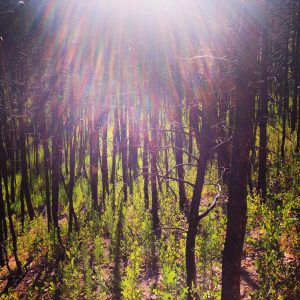 In the Colorado foothills where I live, we have a path that traverses an area of the forest that burned down several years ago. Under the burnt remains of these trees we discover a lush underbrush, bursting with new life that flourishes in the fertile earth. Each time I walk this trail, I am reminded that although traumatic life experiences can be devastating, they can also become a powerful force that awakens us to our aliveness. Painful events inevitably shape who we are; however, it is essential that we learn to look beyond the blackened trees of our internal landscape.
American mythologist, Joseph Campbell, described personal transformation as a hero's journey. This involves confronting your inner demons as part of a quest for self-discovery. Traumatic events are often a call to enter the hero's journey. You may feel as though you have been thrown into the abyss. In the hero's journey, you are asked to slay your dragons in order retrieve the treasure that exists within you. As a result, you have an opportunity to discover a previously untapped source of inner strength and wisdom.
"The work of the Hero's Journey in trauma recovery is difficult; but, this same work can serve as an initiation into wisdom and an awakening of the heart. You can learn to trust in your capacity for new growth."
–Dr. Arielle Schwartz