Ch-ch-ch-ch-Changes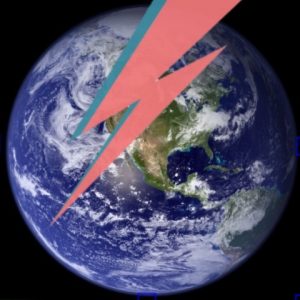 Never in the history of my work as a psychologist has the death of a musician entered the therapy room so powerfully. I can imagine similar collective waves of grief and anger after the assassination of John Lennon. Assertively I heard again and again throughout the week some version of "I am who I am today because of him" and "he gave me the courage to be myself." This week's post is in honor of you, David Bowie. You have left your mark on our world.
Turn to Face the Strange
Bowie, you were change. You reminded us to let go of old forms and to enter into the unknown in order to emerge anew. You encouraged us to re-imagine, shed outdated images, and revise ourselves. As we grow and change we remember your affirmation, "I don't know where I'm going from here but I promise it won't be boring."
But, change feels scary especially after spending years trying to protect ourselves. Yes, we have built strong walls around our most vulnerable feelings. We have all inadvertently pushed people away when they have come in close and become overly self-reliant. Your reminder, "Now it's time to leave the capsule, if you dare." Yes, it is time.
Dance the Blues
You were timid, hidden in costume, and you were raw and exposed. We all dance between our masks, our conditioned hiding, and our longing for authentic presence. We pretend we are fine when we aren't. We have been taught how to gloss over terror, rage, and anguish becoming plastic versions of reality. You reminded us to "dance for fear" so that when pain crumbles the world as we know it and brings us to our knees we may call upon the creative force to extract us from despair. We need portals to places beyond words and conceptual ideas so that we may once again dance in flow with life. So, "put on your red shoes and…"
Where Are We Now?
You were contradiction. "Make the best of every moment. We're not evolving. We're not going anywhere." Yes, live for this moment. The process of change is not linear. We forge new trails and loop around landmarks until they become familiar. We may initially endeavor to arrive at a destination only to discover a vast and unlimited deep dive into relationship with self and the world. "The truth is of course that there is no journey. We are arriving and departing all at the same time."
You were an enigma reminding us not to take things too seriously. You expanded style. You challenged gender expectations and stood in the face of conformity reminding us that some rules are meant to be broken.
Where are we now? You live on in us. We are here to live out the ch-ch-ch-ch-changes. It is our time to carry the torch that has been lit by your creative spark. Now we are here to live hidden and exposed, timid and fearless.
"Where are we now? The moment you know, you know, you know."
About Dr. Arielle Schwartz
Dr. Arielle Schwartz is a licensed clinical psychologist, wife, and mother in Boulder, CO. She offers trainings for therapists, maintains a private practice, and has passions for the outdoors, yoga, and writing. She is the developer of Resilience-Informed Therapy which applies research on trauma recovery to form a strength-based, trauma treatment model that includes Eye Movement Desensitization and Reprocessing (EMDR), somatic (body-centered) psychology and time-tested relational psychotherapy. Like Dr. Arielle Schwartz on Facebook or sign up for email updates to stay up to date with all my posts.