Strength Based Psychotherapy
Resilience-Informed therapy applies research on resilience to form an integrative mind-body approach to trauma recovery. This strength-based treatment model of care includes:
A Positive Approach to Healing Trauma
Resilience is defined as an ability to flexibly adapt to challenging, adverse, or traumatic life events. This ability to "bounce back" from traumatic events is deeply connected to having the opportunity to work through difficult life experiences. Resilience is not a trait that you either have or do not have; it is a set of strategies that can be learned and practiced
Exposure to disturbing or traumatic life events is inevitable. But remember:
Following trauma exposure most people experience uncomfortable emotions and sensations such as grief, fear, anxiety, panic, anger, or depression. This is normal AND it is part of your innate resilience process.
Resilience Informed Therapy helps you to:
Build your Resources and focus on your strengths
Increase Distress Tolerance
Feel Empowered to take an active role in your health and wellness
Optimize your healing after trauma exposure
In the Colorado foothills where I live, we have a path that traverses an area of the forest that burned down several years ago. Now, under the burnt remains of trees lies a lush underbrush, bursting with new life that flourishes in the fertile earth. Each time I walk this trail, I am reminded that even though traumatic life experiences can be devastating, they can also become a powerful force that awakens us to an undercurrent of our own aliveness. Painful events inevitably shape who we are; however, it is essential that we learn to look beyond the blackened trees of our internal landscape. The work of trauma recovery is difficult; but, this same work can serve as an initiation into wisdom and an awakening of the heart. We can learn to trust in our capacity for new growth. However, such growth is not suddenly discovered one day. Rather, you are an active and creative participant in shaping your life and your future.
PTSD develops when your natural adaptive capacity to respond to a traumatic event isn't accessible. This can leave you feeling stuck, panicked, or hopeless. However:
With sufficient support most people do recover from PTSD.
Resilience and Growth
Research on resilience shows us the behaviors and beliefs that are associated with greatest adaptation to loss. Based upon a wide review of this research I have brought together the 6 Pillars of Resilience.
Growth Mindset
Emotional Intelligence
Community Connections
Self-Expression
Embodiment
Choice and Control
You can put the 6 Pillars of Resilience into action by identifying activities that you engage in during your daily or weekly routine that support you physically, emotionally, mentally, socially, and spiritually.
Core Components of Healing
Resilience informed therapy is based in a biopsychosocial approach to care which means we work in partnership and in collaboration with one another. We attend to the following elements in healing…
Your Family History
Successful therapy begins with taking a thorough life history including:
Explore your childhood including significant losses, attachment history, and experiences of abuse or neglect
Identify strengths and resources from your childhood and family.
Look at significant events across generations that can lead to the transgenerational transmission of trauma
Trauma Treatment
Resilience informed therapy takes into account the physiological and neurobiological underpinnings of post trauma reactions and uses this information to navigate through treatment.
Physical Health
Resilience informed therapy attends to the impact of unresolved PTSD on physical health.
Support Systems
As human beings we cannot fully be understood outside of the context of our relationships, social situations, and cultural experiences . Therefore, resilience informed therapy takes a close look at the presence or lack of current support systems and emphasizes reducing isolation.
Realize your Potential
Processing disturbing or traumatic life events can facilitate growth and a greater sense of purpose, helping you fulfill your potential.
Resilience Informed Therapy for Complex-PTSD
You can heal whether you are in recovery from a single traumatic event or from ongoing childhood abuse or neglect. Remember:
You are not broken, in need of fixing. Rather, you are deeply hurt, in need of care.
Further exploration:
Read the Books

The Complex PTSD Workbook is available on Amazon! Click here to check it out and increase your toolbox for healing. Whether you are a client or a therapist this book will offer a guided approach to trauma recovery to benefit you or your clients.
The EMDR Therapy and Somatic Psychology book, is available on Amazon!Click here to check it out to learn an integrative and effective approach to healing from trauma.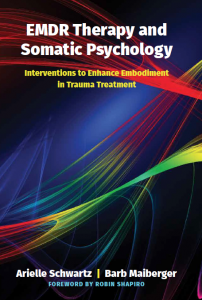 Heal and Learn with Dr. Arielle Schwartz
See Dr. Arielle Schwartz's in an interview on Resilience:

Discussion with Arielle Schwartz from Ladybug Pictures on Vimeo.