Meet Dr. Arielle Schwartz, Licensed Psychologist, E-RYT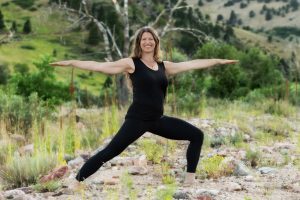 Hello friends near and far. My name is Dr. Arielle Schwartz. I am a clinical psychologist and Experienced Registered Yoga Teacher (E-RYT) who specializes in therapeutic yoga for trauma.
Usually my classes are only for local students here in Boulder, Colorado. However, we are living in unprecedented times, yes? So, I have explored teaching over zoom to you, in your home. At the bottom of this page are my pre-recorded classes.
If you'd like to practice with me live, my next class is a April 30th, 2022
Please bring a mat, 1-2 blocks, strap, and blanket.
All classes are donation based. If you feel moved to do so, you may do so here:
---
About and Embodied Approach to Yoga
As many of you know, yoga is my daily practice. Coming to my mat helps me to stay grounded and balanced.
You might be wondering if my classes are appropriate for you. I do try and make my classes as accessible as possible. However, we do move while seated on the floor, having your knees down on the floor in a table shape, and laying on your back. I offer modifications throughout class such as sitting in a chair instead of on the floor of placing padding under your knees.
You know your body best. I offer an atmosphere of listening to your body and honoring your limitations. This is what helps you practice safely.
The emphasis in my embodied yoga practice is to follow what feels natural in your body. We explore certain shapes in the body as "starting place" for movement. There is no "right" or "wrong" way to do any shape.
There is no way to "fail" at yoga. Yoga means union. Union of heart and mind. Union of body and breath. Union of attention and intention. Together through these practices, you have an opportunity to connect to your strength and find a sense of balance .
My hope is that if you join me, that you will feel comfortable to honor your body and do what is right for you!
Yoga and the Vagus Nerve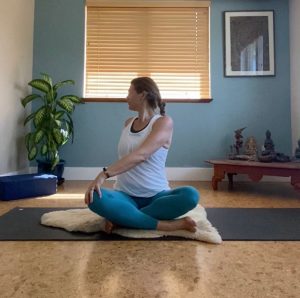 Therapeutic yoga is tremendously effective, in part because of how yoga interacts with our vagus nerve. Our yoga practice helps us to become increasingly flexible…not just of the physical body but of the nervous system. This will help you become skilled at switching between sympathetic and parasympathetic nervous system with greater ease and choice.
Research has shown tremendous benefits of yoga for increased vagal tone, stress reduction, and trauma recovery.
You can learn how to regulate the functioning of your vagus nerve with techniques such as altering the rhythm of your breath, practicing mindful body awareness, and exploring physical yoga postures to create greater choice about your level of arousal or activation. You can also gently stimulate the vagus nerve with yoga postures that open across your chest, throat, and belly.
Click Here to view the handout for my Embodied Yoga Summit presentation on the Vagus Nerve.
Top therapeutic yoga posts:
My Yoga Influences and Background
If we haven't practiced together before, here's a little about my background. I was introduced to yoga when I was 7 years old. As an adolescent I lost interest in yoga but I came into my own daily practice of asana, breath work, and mindfulness while in college. At that time, I officially adopted yoga as a self-care practice to manage stress and anxiety.
The benefits of a daily practice were far reaching. My physical health improved, I felt stronger, and developed more confidence in my sense of self.
In 1996, I completed my first teacher training and became a certified as a Kripalu yoga instructor. My style of teaching integrates Kripalu Hatha yoga with Kundalini and Vinyasa style practices. I find the personal benefits of integrating across yoga schools. I continue to be an avid student and practitioner.
I have designed a curriculum of therapeutic yoga for trauma recovery that I have taught for over 12 years. These classes integrate mindfulness, conscious breathing, and somatic awareness. We begin by setting personal intentions for class, then, the asana practice serves as a powerfully transformational tool results in increased clarity, compassion, and confidence.
Yoga is a philosophy and lifestyle rather than just a physical form of exercise.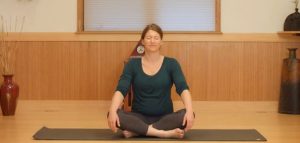 Recorded Practices for you:
I encourage you to use these recorded yoga sessions to support your mind, body, soul when you practice on a regular basis.
In these classes, I share with you some of my favorite practices that have benefitted me and my students for many years.
All classes are donation based. If you feel moved to make a donation, you may do so here:
---