Trainings and Presentations

Upcoming Training Dates:
---
Upcoming Events: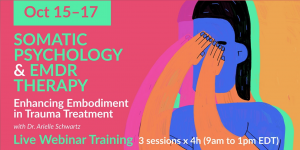 In the recording of this 3-day live webinar, Dr. Arielle Schwartz offers an experiential workshop on Somatic Psychology and how it interfaces with evidence based trauma treatments. When clients suppress emotions, they can present somatically. Traditional approaches to therapy attend to the cognitive and emotional aspects of clients' lives, while the somatic experience is often left out of the room. "Talk therapy" can have limited effectiveness for clients with somatization symptoms, developmental trauma, dissociative defenses, or debilitating feelings of shame. It is therefore, important for therapists to become skilled at working with client's nonverbal and somatic communications. Interventions to enhance embodiment in trauma treatment expand the therapeutic experience beyond where words can take a client.
Somatic Psychology brings the body into therapy by highlighting physiological patterns and their influence on human behavior. In this workshop, you will learn the history of somatic psychology and foundational principles that underlie this work. Interventions are drawn from a wide range of somatic psychotherapy modalities including Integrative Body Psychotherapy, The Hakomi Method, Body-Mind Psychotherapy, Authentic Movement, Formative Psychology, Focusing, The Moving Cycle, Somatic Experiencing, and Sensorimotor Psychotherapy. Most importantly, you will be introduced to the underlying principles that comprise a unified approach to somatic psychology as a trauma treatment.
In this engaging and informative 3-day live webinar, by Dr. Arielle Schwartz, you will learn the science of embodiment and why somatic psychology is essential for helping clients work with dysregulated affect and arousal states that accompany PTSD. We will explore how to integrate body centered interventions into existing and evidence based trauma treatment approaches including relational, trauma focused CBT, narrative exposure, EMDR and parts work therapies. Throughout the 3-days, somatic interventions will be explored didactically and experientially allowing participants to experience first-hand the value of interventions that enhance embodiment in trauma treatment. Dr. Schwartz will discuss specialized treatment considerations that allow clinicians to address preverbal trauma memories, attachment trauma, somatization symptoms, and chronic pain. We conclude with a focus on somatic approaches to self-care for therapists to address vicarious traumatization and burnout.

Successful treatment requires a compassionate therapeutic relationship and effective, research-based interventions. After this two-day workshop you will learn how to:
Help clients move out of crisis by building stabilising resources
Prepare clients to work through traumatic memories without becoming overwhelmed
Develop an integrative trauma treatment plan that includes Somatic Psychology, Parts Work Therapy, CBT, DBT, EMDR Therapy and mind-body therapies.
Dr. Arielle Schwartz will show you an engaging and interactive way to learn valuable strategies that will allow you to successfully address the dysregulated affect and arousal states that accompany Complex PTSD. You will leave this CPD event with practical tools that facilitate a strength-based approach to trauma recovery and increased resilience in clients.
This 2-part training will guide you through an experiential journey to support your wellness while connected to our online Embodied Yoga community.
This course is open to anyone (i.e yoga teachers, therapists, parents, teachers, etc.) interested in the application of Polyvagal Theory from a multidisciplinary holistic approach. We will use psychology, meditation and yoga to embody these practices and learn to apply them in our everyday lives.
This is Level 1 of 2. Both Levels 1 and 2 comprise eight hours of study each, totaling 16 hours all together. Complete both Levels 1 and 2 to receive recognition with our Applied Polyvagal Theory in Yoga Certificate.
---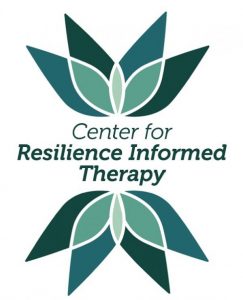 Recorded Webinar Topics:
Resilience Informed Therapy
Vagus Nerve and Trauma Recovery
Somatic Psychology
Addressing Dissociative Symptoms in Complex PTSD
---
Learn More about Upcoming Trainings:



Online and Live Trainings with NSCIENCE


Past Trainings/Presentations
EMDR Therapy and Complex PTSD

EMDR and Dissociation: Reflections, Considerations, and Cases
EMDR Therapy Tools for Attachment Trauma
Play Therapy and EMDR for Children
Embodied Culture: A Somatic Approach to Diversity Awareness in EMDR (Dr. Arielle Schwartz and Barb Maiberger presented this at the 2014 EMDRIA Conference)
Resilience Psychology:  A Strength-Based Approach to Trauma Recovery
Complex PTSD for PESI