Getting Unstuck from PTSD

One of the painful repercussions of Post Traumatic Stress Disorder (PTSD) is the experience of a lack of control that can occur when you feel trapped by feelings of anxiety, panic, overwhelm, or despair.  Polyvagal theory, the work of Stephen Porges, M.D., offers a valuable framework for understanding and effectively responding to the intense emotional and physiological symptoms of PTSD.
"Healing the nervous system can take time and requires patience. Put the polyvagal theory into action in you life to increase your sense of freedom in body and mind" -Dr. Arielle Schwartz
The Nervous System: A Basic Model
A basic model of the nervous system shows that we have two components of our nervous system, one that is under our conscious control (e.g. moving your hand) and another that functions without our awareness (e.g. regulating our body temperature). The portion of the nervous system that functions without our conscious awareness is called the autonomic nervous system (ANS). Historically the ANS was understood to have two primary systems:
The parasympathetic nervous system which used to be only associated with a relaxation response
The sympathetic nervous system which was historically only thought to be related to fight and flight.
The Polyvagal Theory
More recently, research by Dr. Stephen Porges offered a new understanding of the ANS. The autonomic nervous system is regulated by the vagus nerve or the tenth cranial nerve. The vagus nerve connects the brain to major systems in the body including the stomach and gut, heart, lungs, throat, and facial muscles. Porges identified that the autonomic nervous system does not simply have two systems but a third component that plays a central role in the regulation of the nervous system. His polyvagal theory reveals that our nervous system reflects a developmental progression with three evolutionary stages.
The earliest evolutionary set of actions is maintained by what is called the "dorsal vagal complex." This branch of the vagus nerve engages the parasympathetic nervous system in an unrefined manner, is sometimes referred to as an abrupt vagal brake because of the capacity to engage immobilizing defensive actions such as fainting or feigned death. The second evolutionary stage of nervous system is maintained by the actions of the sympathetic nervous system responsible for actions mobilize us into self-protection when under stress. The most recently evolved portion of the nervous system is the "ventral vagal complex" which Dr. Porges has termed the "social nervous system." This more recently evolved branch of the vagus nerve also functions as a brake on sympathetic activation; however, this occurs in a highly refined and regulating manner resulting in a calming and soothing effect.
Importantly, both the dorsal vagal complex (DVC) an the ventral vagal complex (VVC) will exert inhibition on the sympathetic nervous system only the DVC can have serious repercussions on mental and physical health whereas the VVC is associated with increases in health and emotional wellbeing.
Our natural state of rest and safety allows us to engage our social nervous system (VVC) facilitating our ability to connect to others, feel playful, feel love, and relax into connection. When we experience threat we will initially attempt to use our social nervous system to re-establish connection and safety. For example, "tend and befriend" behaviors are a stress response that attempts to re-establish a safe relational bond. However, if our social nervous system fails to resolve stress we will resort to evolutionary older strategies. Initially we will draw upon sympathetic actions such as fight or flight. Again if we are unsuccessful in handling stress at this point we default to the oldest evolutionary survival strategies that are rooted in DVC parasympathetic activity such as immobilization or dissociation.
You know that you are engaging the social nervous system when you are able to recognize when you are safe, be self-reflective, feel a warmth in your smile, and the sparkle in your eyes. Your social nervous system increases your ability to respond effectively when you feel keyed up with anxiety or shut-down with depression.
Furthermore, your social nervous system (VVC) is strengthened by myelination. Myelination is a fatty coating on nerve pathways that is increased through repeated use and results in increased speed and control. You can imagine here the myelination that occurs in the learning of a new piece of music for the piano. Initially notes are played slowly and carefully but with repeated practice you begin to create music, eventually without reading the music at all. Likewise, the pathways of the social nervous system are strengthened through repeated practice.
Mobilization into Play – Immobilization into Intimacy 
Whether you are feeling anxiety depression you can use tools to engage your social nervous system to re-establish higher order nervous system functions. For example, if you are experiencing anxiety you are likely in fight or flight, a key defense reaction of sympathetic nervous system. Sympathetic actions involve mobilization; the need to move your body to release the build of stress cortisols. You can engage your social nervous by rubbing your hands together vigorously and making physical contact to your own face, neck, upper chest, arms, and legs. You can also explore physical movements that feel safe and grounding such as going for a walk or shaking your arms and legs to release stress. When we feel safe we can engage our social nervous system to use the energy of the sympathetic nervous system to dance, play, and laugh.
Feeling shut down, collapsed, depressed, or numb is an indication that you are in the defensive reactions of your parasympathetic nervous system which is characterized by immobilization. If you have a history of trauma it is possible that you are perceiving threats in your environment that are not actually occurring in the here and now. This is because a common symptom of PTSD is confusion between the past and the present. In this case, your social nervous system can help you find clues that help you recognize that you are not in imminent danger now which helps you access the positive, relaxing elements of your parasympathetic nervous system of "rest and digest." When possible, turn towards a loving connection with a friend, caring partner, or a pet. If you are able, make eye contact or call someone you trust and listen to the sound of their voice. You can also visualize a loving animal, friend, or protective ally to restore a felt sense of connection. When we can embrace immobilization with safety we can access the nourishment of the relaxation response.
Implications for Healing PTSD
The polyvagal theory in action can allow you to increase your sense of freedom in body and mind when experiencing symptoms of anxiety, panic, or depression. Here are some suggestions:
Focus on the present moment
Engage the sense of smell with an essential oil that brings a positive association or feeling
Re-establish connection by calling a friend, snuggling with your pet, or loving self touch.
Express feelings through talking, writing, drawing, movement
Focus on your breath as a fine tuning mechanism to regulate the nervous system
Engage in a mindfulness practice such as meditation or therapeutic yoga
Allow yourself to play
Therapeutic implications of Polyvagal Theory inform somatic trauma release models and EMDR Therapy. Healing the nervous system can take time and requires patience with the process and with yourself. You are not failing when you feel anxious or depressed. You are also not alone. Put the polyvagal theory into action in you life to increase your sense of freedom in body and mind Further Reading:
Want to learn more about healing PTSD?
This post offers an excerpt from my book, The Complex PTSD Workbook, now available on Amazon! Click here to check it out.
About Dr. Arielle Schwartz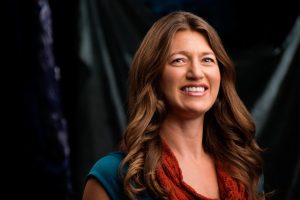 Dr. Arielle Schwartz is a licensed clinical psychologist, wife, and mother in Boulder, CO. She offers trainings for therapists, maintains a private practice, and has passions for the outdoors, yoga, and writing. Dr. Schwartz is the author of The Complex PTSD Workbook: A Mind-Body Approach to Regaining Emotional Control and Becoming Whole (Fall, 2016). She is the developer of Resilience-Informed Therapy which applies research on trauma recovery to form a strength-based, trauma treatment model that includes Eye Movement Desensitization and Reprocessing (EMDR), somatic (body-centered) psychology and time-tested relational psychotherapy. Like Dr. Arielle Schwartz on Facebook, follow her on Linkedin and sign up for email updates to stay up to date with all her posts.